---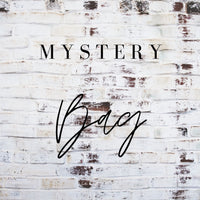 Each bag will have 2 items.  
NO RETURNS/EXCHANGES.
NO DISCOUNTS MAY BE USED.
Bags will all have the same value, and will contain a possible mix of tops, bottoms, dresses & accessories. 
Grab Bags may contain items from a mix of seasons, and/or exclusive items that are not available on the site for sale. There is no guarantee that you won't get an item you already have. There is also no guarantee you will get any clothing.